Current Lab Members
---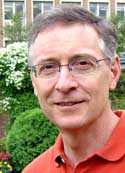 David Arnosti, Ph.D.
Lawrence University, Appleton WI B.A. 1982
University of California, Berkeley CA Ph.D. 1989
Postdoctoral research at the University of Zurich (1990-92) and UC San Diego (1993-96)
I have been a faculty member in Biochemistry & Molecular Biology since 1996. In addition to leading our research team in biochemistry and genetics of gene regulation, I teach an introductory course for new graduate students "Introduction to Molecular Biology". I have served on numerous study sections at NIH and NSF, and as an editor, review manuscripts for JBC. I have led our campus-wide efforts in Gene Expression in Development and Disease, and from these activities grew the biennial ASBMB Symposium on "Evolution and Core Processes in Gene Expression" (Chicago 2013, St. Louis 2015, Kansas City 2017, East Lansing 2019). Since summer 2018, I am the graduate program director in BMB.
---


Sandhya Payankaulam
M.Sc., Bharathiar University, India, Biochemistry
M.Phil., Bharathiar University, India, Medical Biochemistry
Ph.D., University of Madras, India, Medical Biochemistry
I have extensive experience in molecular and genetic analysis of gene regulation in Drosophila, with a focus on transcriptional repressors. The overall goal of my current research is to investigate the role of retinoblastoma tumor suppressor protein (Rbf) in controlling cell polarity during Drosophila development. Taking a combined biochemical, molecular and cell biology approach, my work is focused on identifying molecular mechanism/s underlying Rbf mediated regulation of polarity determinants.
---

Ali Bayram, Ph.D.
Gaziantep University Faculty of Medicine, Gaziantep, Turkey Ph.D. 2013
Assistant Professor, Firat University Faculty of Health Sciences, Elazig, Turkey (2013-2016)
My research and teaching interests had been fostered by several years of undergraduate teaching and mentoring in Turkey. I taught discussion and laboratory sections for both introductory molecular and cellular biology and for introductory genetics for two semesters each between 2013-16 at Firat University Faculty of Health Sciences as an Asst. Prof. Since 2017, I have been a postdoctoral associate in Biochemistry & Molecular Biology. I am currently focusing on the transcriptional regulation of the insulin receptor (InR) gene in Drosophila. My goal is to identify and characterize the complex cis-regulatory elements that regulate the sensitive regulation of this gene, and ultimately its biological significance in development and physiology.
---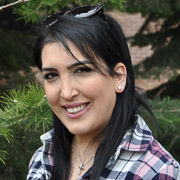 Rima Mouawad B.S.
Cell and Molecular Biology Program, Michigan State University
University of Balamand. Beirut, Lebanon
Masters Medical Laboratory Sciences "Clinical Microbiology Concentration" June 2010
Bachelors Medical Laboratory Sciences, June 2004
I have been a graduate student in the Arnosti lab since 2014. My research is focused on deciphering the mechanisms by which Retinoblastoma proteins regulate gene expression. I use bioinformatics tools and wet bench experiments to answer my research questions. I've been the teaching assistant for the graduate course BMB801 "Introduction to Molecular Biology" since 2014, which has been a very rewarding experience.
---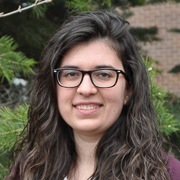 Ana-Maria Raicu, B.S.
Cell and Molecular Biology Graduate Program, Michigan State University
University of Wisconsin-Milwaukee, Bachelor of Science in Social Work and French 2015
My undergraduate career was focused on social work, with a particular interest in maternal and child health and child neurodevelopment. I worked as a funded undergraduate researcher in a Psychology lab studying Williams Syndrome and response inhibition, presenting my work at both state and national conferences. Following graduation I returned to school to explore the biology behind neurodevelopment, which spread to a general fascination with cell and molecular biology and development. During this time I worked in a lab studying the formation of the midbrain-hindbrain boundary in zebrafish embryos. I am currently in my second year of the Cell and Molecular Biology program at MSU. For my dissertation work I am developing a CRISPR-Cas-based method of studying eukaryotic transcriptional repressors and co-repressors and their context-dependent activities and interactions with chromatin modifiers on the fruit fly genome.
---

Dominic Thorley, B.S.
Michigan State University, 2018
Undergraduate Research at the University of Zurich (2016)
I graduated from Michigan State University through the College of Lyman Briggs with a major in Genomics and Molecular Genetics in 2018. I joined the lab in January of 2017 as an undergraduate, and have since transitioned to working as a full time post-baccalaureate research assistant. My project is utilizing CRISPR/Cas9 to mutate a putative regulatory motif in the isocitrate dehydrogenase (Idh) gene of D. melanogater. The goal of knocking out this transcription factor binding site is to determine if Retinoblastoma (Rb) plays a novel role in transcriptional regulation of Idh; this would contribute to a more complete understanding of the role of the Rb family proteins. I am also working on a project that involves knockout of Rbf2, again using CRISPR/Cas9 germline mutations. Since creating these Rbf2 mutants I am working on characterizing the effects that knocking out Rbf2 has on the organisms.
---

Sarah Hodge, B.S.
I am a post-bac researcher in the Arnosti laboratory, having graduated from Michigan State University in December 2017 with a degree in Biochemistry and Molecular Biology. My research focus is using molecular and genetic approaches to understand the transcriptional regulation of genes by retinoblastoma tumor suppressor proteins, using Drosophila as a system. I have analyzed Rbf target genes in the fly by cloning promoters of different classes, responsive to Rbf1 and/or Rbf2 proteins. My work is aimed at understanding the structural and functional features that endow these conserved cancer proteins with unique activities.
---

Pamela Himadewi B.S.
I am a post-baccalaureate researcher in the lab. I graduated from Michigan State University with a bachelor's degree in Biochemistry and a minor in computational math, science, and engineering. My research projects revolve around identifying potential promoter regions from different functional classes of genes, to better understand transcriptional regulation by Rb family proteins in Drosophila melanogaster. Previously, I have also served as a member of the MSU iGEM team in 2016, building Arduino-powered photo-bioreactors and engineering cold and freezing adaptation in Cyanobacteria.
---

Mark Pulver
I am a senior undergraduate from Menominee, MI majoring in Chemistry. My project involves studying the insulin receptor gene in fruit flies and how different drugs, such as caffeine, change the receptor's expression levels. Post graduation I plan on pursing a PharmD.
---

Gabby Iacobellis
I am currently a junior undergraduate student, majoring in Human Biology. In the future, I plan to attend Pharmacy School and earn a Pharm.D. Participating in a laboratory setting and conducting research has been a great experience here at the Arnosti lab. Currently, I am researching the effects of different drugs, such as caffeine, on the insulin receptor gene and its expression in Drosophila.
---

Carina Arnosti
I am an undergraduate researcher working with Ana-Maria Raicu. I am creating chimeric dCas9-Rb fusion proteins to study mechanisms of transcriptional repression in vivo. I am planning on continuing my education so that I can eventually end up in psychological research.
---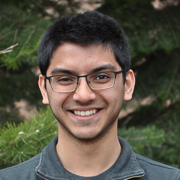 Jaideep Prasad
I am an undergraduate student in the Lyman Briggs and Honors Colleges at MSU, working on a B.S. in Biochemistry and Molecular Biology, with minors in Computer Science and Bioethics. Using a CRISPR-Cas9 approach, I'm analyzing genetically engineered fly lines that are deficient in retinoblastoma family 2 (Rbf2) to understand the protein's role in development and its evolutionary need. In the future, I hope to continue my education by entering medical school.
---

Anthony Decicco
I am a senior studying Biochemistry and Molecular Biology and I plan on graduating in May of 2019. I have been in the Arnosti lab since fall of 2017 and after starting out as a lab assistant I am now an undergraduate research assistant. My project explores the genetic differences that differentiate how the RBF1 and RBF2 proteins, found inDrosophila melanogaster, regulate gene expression.
---

Nate Wilson
I am currently going into my Senior year at Michigan State to earn a Bachelors Degree in Human Biology. I plan to further pursue medicine after graduation. My research is focused on the effect of specific mutations in retinoblastoma tumor suppressor genes on the life span and fertility of Drosophila melanogaster, an area that may have parallels in human health and disease.
---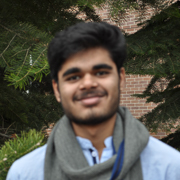 Dhruva Kadiyala
I am a second year undergraduate student in Lyman Briggs College major in Neuroscience. I am pre medical student who is interested in the world of scientific research. I have been a part of the lab for the past one year and I have been working on studying the conservation of Retinoblastoma proteins across species. I have really enjoyed a lot being a part of the lab and got to gain a lot of valuable information.